Control of electrical devices by web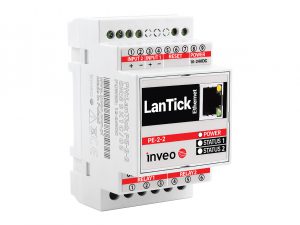 Lantick PE-2-2 alows to  control of  electrical devices by web. The module has 2 relay outputs rated at 250V, it is controled by TCP / IP  protocol. The module also has 2 opto-isolated digital inputs that can operate in counter mode.
Management and configuration of the device can be done in folowing ways:
by built-in website
by  program run from a command line WINDOWS / LINUX OS
by MODBUS TCP protocol
by SNMP protocol
by smartphone or tablet with Android
The modules can be connected  in M2M mode.
Dimensions of the PE-2-2 in millimeters.
| Download | Link |
| --- | --- |
| Declaration of Conformity (CE) | |
| User manual | |
| Discoverer | |
| Lantick Logger | |
| Firmware upgrade manual | |