Users of Inveo modules will definitely be interested in the new version of the Disoverer application. The program is used to search for our devices in the LAN.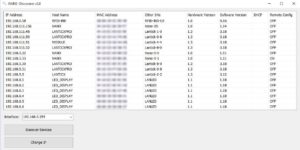 After installing the application and each time it is started, click the Discoverer Devices button. As a result, the current list of devices on the network will be downloaded.
The application contains basic information about each Inveo device connected to the network: network name, device name, IP address, MAC address, hardware version and software version. The novelty is the information from the DHCP service and the option of remote module configuration. To use it, check the Enable Remote Network Config service in the module settings. After activating this service, user can edit the device settings:
After making changes to the settings, remember to confirm them with the button Change.
In short, all change will be saved in the device.
Each column with data in the application can be freely sorted and reordered.
The application is available in the Download tab.